Floyd Mayweather Jr. has amassed a legion of fans around the world for his boxing prowess in a professional career which has spanned 21 years. His love of extravagance and luxury has not always endeared him to everyone.  However, Floyd Mayweather net worth does not lie.  It's estimated to be $340 Million as of January 2017 and will increase with his next large payday, whether he wins or loses.
Floyd Mayweather Net Worth: $340 Million (Forbes)
Floyd Mayweather Career Earnings: $1Billion
The boxing luminary is widely regarded as one of the greatest exponents of the "Sweet Science", a term within boxing which is generally adorned to athletes in the sport who exhibit slick skills and cerebral skillset inside the ropes.
The man known as "Money" is set to face off against another lover of the almighty dollar, UFC lightweight champion, and global superstar Conor McGregor. The brash, trash talking Irish Mixed Martial Artist will be waiting for Mayweather at the MGM T-Mobile Arena in Las Vegas, Nevada on Aug. 26. Mayweather, on the other hand, is expected to surpass an incredible $1 Billion dollars in career earnings and will make Floyd Mayweather's net worth jump.  Not bad for a kid who started with nothing.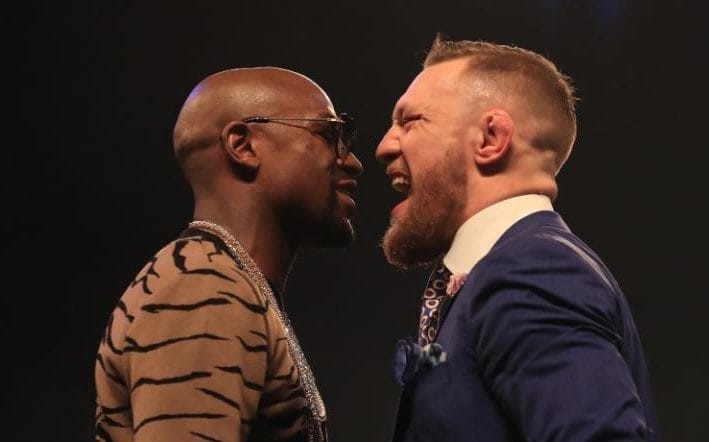 Mayweather squaring off with McGregor at a recent press conference in London, England as part of their promotional world tour.
Floyd Mayweather Jr's Early Beginnings
Floyd Mayweather Jr. was born Floyd Joy Sinclair in Grand Rapids, Michigan on Feb. 24, 1977, to Floyd Mayweather & Deborah Sinclair.  Mayweather Sr., a professional boxer and welterweight contender had a moderately successful career, of which the obvious highlight was facing legendary fighter Sugar Ray Leonard when Floyd Jr. was just one year old.
Mayweather Sr's brothers, Roger and Jeff Mayweather, were also professional boxers. Roger, who won two world championships, was incredibly influential on Mayweather Jr. taking up a career in boxing. Being born into a family where boxing was the fabric of their ties would have made it an almost certainty that the younger Floyd would follow in their footsteps! And thankfully, he did.
Mayweather once told of how he was certain that he would pursue a career in boxing:
"I think my grandmother saw my potential first," Mayweather declared. "When I was young, I told her 'I think I should get a job.' She said: 'No, just keep boxing'."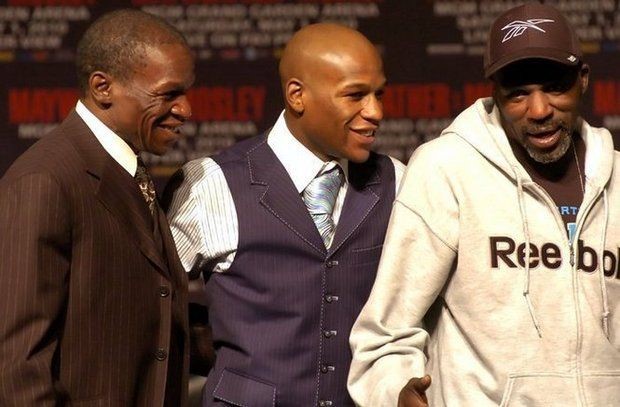 [From left to right] Floyd Mayweather Sr., Floyd Mayweather Jr. and uncle Roger Mayweather.
Mayweather's mother had a crippling drug addiction, and his own aunt passed away following a battle with A.I.D.S due to her own addiction to narcotics Mayweather Sr., when not "hustling" and "selling drugs" spent all of his time with his son training him in the art of boxing.
Mayweather Family Life Today
Mayweather is a proud family man and dedicated father.  He has four children, Lyanna, Kouraun, Jira and Zion. The legendary boxer credits his drive and desire to ensure that his children have better lives than he had and it appears that is definitely the case!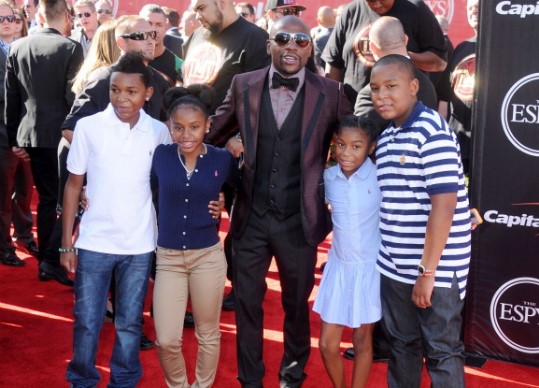 Floyd Mayweather Net Worth
According to Forbes, Mayweather has a net worth of circa $400 million dollars – not bad for a kid who came from almost nothing! In addition to this mouth watering amount of wealth, Mayweather also enjoys having the ability to buy luxury cars, lavish jewels, yachts and private jets which are beyond most people's means.
Floyd Mayweather Billionaire
Floyd Mayweather turned pro in 1996 after losing a controversial Olympic bronze medal fight.  This incident became the most important moment of his professional life. Mayweather never lost another fight and became the legend we know of today. "Pretty Boy" Floyd was born and as the clouds parted, one of the greatest fighters of all time continued to blast through opponent after opponent.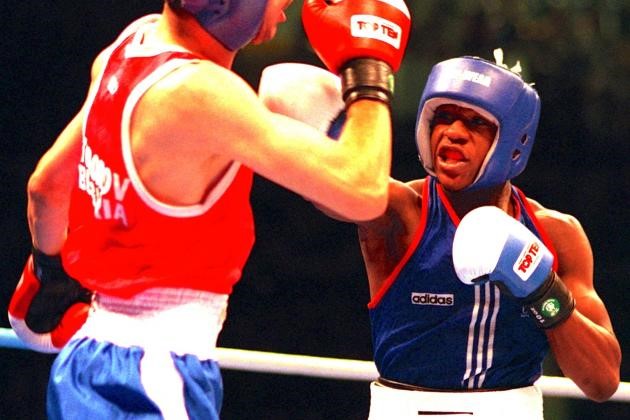 Even though Mayweather knocked out 13 of his first 15 opponents, he earned mostly five-figure paydays.  In 1998, Mayweather won his first title, making $150,000 from a TKO victory of Genaro Hernandez.
PayPerView Fights
Mayweather's first Pay-Per-View fight came in 2005.  Mayweather earned $3.2 million for his six-round annihilation of Arturo Gatti.
It wasn't until he beat multiple world champion and boxing's pay-per-view king Oscar De La Hoya in 2007.  When he took the crown of PPV king, Floyd Mayweather Jr's net worth sky rocketed. Mayweather, having admittedly been the "B" side of that fight was now the undisputed king of boxing.  Even though De La Hoya earned a then-record $52 million as the fight set, Mayweather pocketed a cool  $25 Million.  The last time Mayweather made less than his opponent.
Mayweather used the opt-out clause with boxing promoter Top Rank before the De La Hoya fight.    He paid $750,000 to get out of his contract, but possibly his best investment.
Mayweather set up his promotion company, Mayweather Promotions in 2007.  This allowed Floyd to capture revenue as both fighter and promoter.  He continued to win and earned a steady $25 million – $40 million paychecks over the next six years.  In 2013, Mayweather banked more than $70 million for his bout versus Canelo Alvarez.
In 2015,  Floyd Mayweather and Manny Pacquiao finally agreed to fight.  The fight was a letdown for the fans.  However, both boxers earned record paydays from huge PPV payouts.  ESPN estimated that Mayweather earned between $220 Million to $230 Million in the 36 minute fight.
Four months after beating Pacquiao, Mayweather defeated Berto to run his record to 49-0 with slightly more than $700 million in career boxing earnings.
Mayweather vs Connor McGregor
In terms of absolute dollars, the upcoming Mayweather McGregor fight will compete for the largest boxing event ever held.  The current largest was the Mayweather vs Pacquiao fight two years ago.
Here's how they will likely compare, according to ESPN.
PPV sales for Mayweather-Pacquiao: $455 million
Projected PPV sales for Mayweather-McGregor: $475 million
Sponsorship sales for Mayweather-Pacquiao: $18.4 million
Projected sponsorship sales for Mayweather-McGregor: $22 million
Merchandise sales for Mayweather-Pacquiao: $1 million
Projected merchandise sales for Mayweather-McGregor: $2 million
Estimated Nevada betting on Mayweather-Pacquiao: $70 million
Projected Nevada betting on Mayweather-McGregor: $30 million
Total for Mayweather-Pacquiao: $623.5 million
Projected total for Mayweather-McGregor: $606.1 million
If many of the projections come true Mayweather will make up to $400 Million just from this fight alone. McGregor could make in excess of $100 Million.  (Not equal payments for Mayweather, McGregor)
This huge payday will push Mayweather's total career earnings to $1 billion.
Mayweather's Prized Possessions
Floyd Mayweather likes to spend and spend often.  He spends countless millions on homes, cars, planes, jewelry and everything you can imagine.  His typical method of payment is cold hard cash. Here's a closer look as he spends his millions.
Floyd Mayweather's Homes
The boxer's main home is a 22,000-square-foot mansion in Las Vegas. So, it big it has its own Instagram and Twitter accounts.  The home includes seven bedrooms, nine bathrooms, and such features as: 12 person shower, two screen movie theatre, a garage filled with cars valued at $15 Million dollars.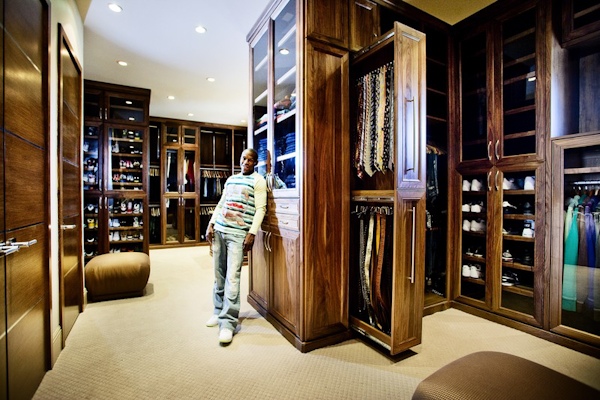 Right after his fight with McGregor, Mayweather put down $25.5M to purchase a 15,096-square-foot mansion in Beverly Hills.  The home was originally listed for $28.95 million.  Despite the $3.4 million savings, it's estimated that Mayweather spent another $500,000 on furnishing the house.
In 2016, Floyd Mayweather paid $7.7 million in cash for a new mansion in Miami. The home is loaded with floor-to-ceiling windows, has five bedrooms, five baths, a swimming pool and spa.
He also owns high-rise spots at the St. Tropez Condominiums in Sunny Isles, Fla., and the Ritz-Carlton Residences at L.A. Live. And Mayweather can now call the Palms Place in Las Vegas home, having recently paid $1.81 million for a penthouse unit above the strip.
Floyd Mayweather's Cars and Planes
Floyd Mayweather has a lot of money and he loves to spend it on cars.  Recently he was selling some of his prized Buggattis, worth a total of $6.4 Million.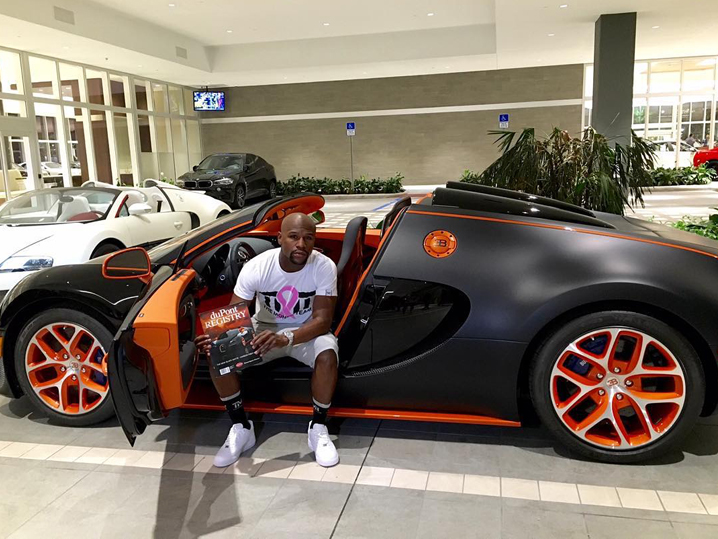 In an interview in 2015 with ESPN, Mayweather stated he has $15 million worth of cars that he never drives just sitting in the garage of his Las Vegas home.
Towbin Motorcars in Las Vegas has come forward and said that Mayweather probably has purchased over 100 cars over the last 20 years.   That list includes 16 Rolls Royce, numerous Buggattis, Ferraris and more.  And in typical fashion, Floyd likes to pay in cash.
Mayweather also likes planes. He has two multi-million dollar planes, Air Mayweather 1 and 2.   Mayweather 2 is a 12 passenger Gulfstream III with gold cup holders, gold sink, gold accents throughout.  It has all white leather seats and a fully stocked kitchen.
Floyd Mayweather's Watches and Jewelry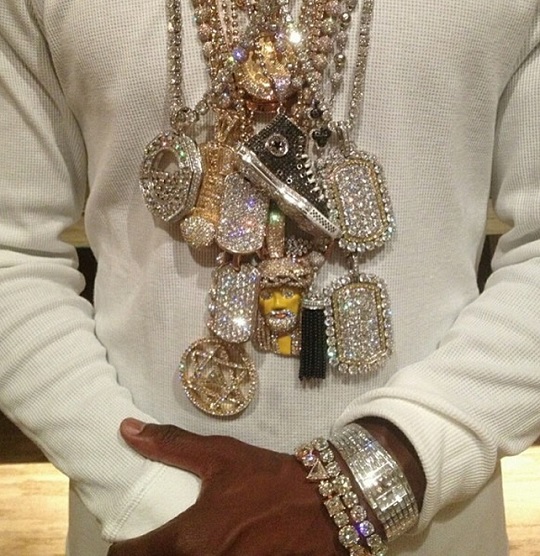 Money Mayweather is known to spend lavishly on all kinds of jewelry.  Necklaces, bracelets and a bevy of watches.  These time pieces have ranged from thousands of dollars to millions.  He recently showcased a Hublot worth$1.4 Million.  Mayweather loves to flaunt them and they are most likely to come out during PR opportunities.  He commonly flashes his belongs on social media, so all his fans can admire.
Floyd Mayweather The Businessman
Mayweather Promotions
As Floyd Mayweather began to garner recognition and success,  the boxer created Mayweather Promotions in 2007.   He had a falling out with Bob Arum and Top Rank,  considered one of the heavyweights in boxing promotions.  Floyd became the company's first client and became his own promoter.  As the head of his own promotion company, Floyd is able to keep all his earnings in house.  Additionally, he has signed over 20+ boxers as their promotions firm.  Mayweather acts as the President, however Leonard Ellerbe is the CEO managing many of the day-to-day operations.
The Money Team (TMT)
In addition Mayweather Promotions, he is also CEO of TheMoneyTeam.  Once a name for his entourage and team, it has evolved into a lavish lifestyle brand.  That brand now sells popular merchandise, including hats, shirts and other apparel.
Investments
Mayweather owns a boxing gym called the "Mayweather Boxing Club" located in the Las Vegas, Nevada.   He also owns an "upscale" gentleman's club which opened in May 2017. The Las Vegas club features exotic dancers from all over the world.
Floyd Mayweather Jr is pretty much guaranteed a life of wealth and extravagance for the rest of his days, (provided he's wise with his earnings).