The secret to being financially successful is spending less than you earn. If you don't know how you spend your money, it is a lot harder to accomplish your savings goals. Try using one of the best budget apps to help you gain control of your finances.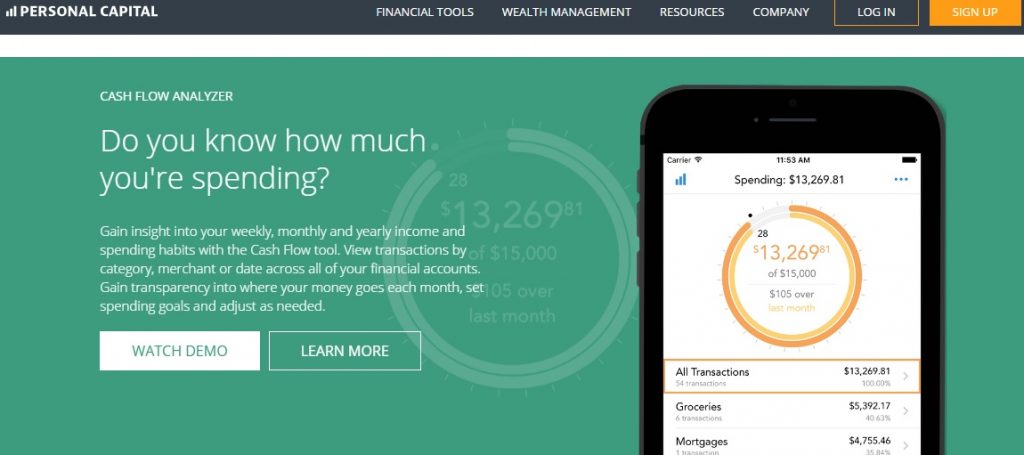 Personal Capital is probably the easiest and best free budget app to use to track your expenses. Did I mention, it's FREE! You can analyze your cash flow and see which spending categories capture the most of your income. Additional features include the ability to track your net worth & analyze the performance of your investments all in one place.
You can automatically link to your banking accounts or enter your account information manually. And, can also track your credit card spending and add other loans like your mortgage or student loans as well. All the reports are displayed in easy to read graphs.
Related: Personal Capital Review
Mint

Mint is another one of best FREE budget app that also helps you manage your money. With Mint, you can create a budget and track your spending by automatically linking to your bank and credit card accounts. You can also create savings goals to help provide a little financial motivation to maximize your cash flow.
Unlike Personal Capital, which is also free but doesn't display ads, Mint will recommend various bank account, loans, and credit cards they think you might benefit from. It's how they keep the service free, however, you are not required to apply for any of these products to remain a member.
Related: Personal Captial vs Mint
Tiller

Have you tried tracking your spending with an Excel spreadsheet and given up?
With Tiller, you link all your accounts and they will automatically upload your transactions into a Google Sheets spreadsheet that you can take anywhere with your Google Drive. There are five different budget templates to choose from or you can create your own.
Tiller does cost $5 per month after a 30-day free trial, but, this is a small price to pay if it helps you maximize your saving and spending power.
And, according to Tiller, 92% of people who switched from a traditional money management app to Tiller said they became more aware of their spending habits.
You Need A Budget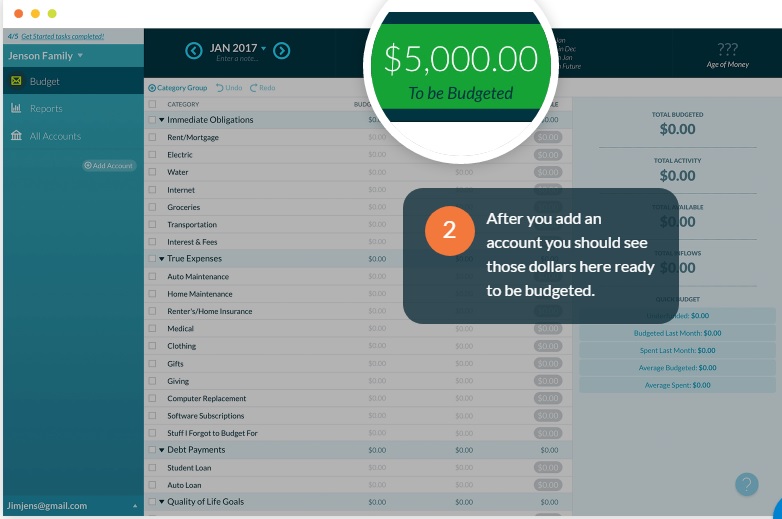 You Need A Budget, or YNAB for short, is the best full-service money management app. It bundles many of the great features that are offered by Mint and Personal Capital together. YNAB's app is based on four simple money rules with the ultimate intention of getting you to live on last month's paycheck, instead of your current paycheck.
With YNAB, you can track your expenses from your smartphone or computer, make a budget, create savings goals, and view your progress in a host of various reports and charts.
You can try YNAB for free for 34 days. After that, it costs $50 per year except students get the first year free.
A Brief Review of the Best Money Management Apps
What is the best money management app for you? It depends on your budgeting preferences.
All four of these apps will track your spending automatically for you. With the exception of Mint, the other three apps will allow you to manually input information like cash purchases and accounts you do not link. Spreadsheet gurus will probably enjoy Tiller the most, otherwise, you will be pleased with either Personal Capital, Mint, or You Need A Budget.
Regardless of which app you choose, they will help you fully track your spending and improve your finances immediately.
Related: Top Apps to Help You Save For College