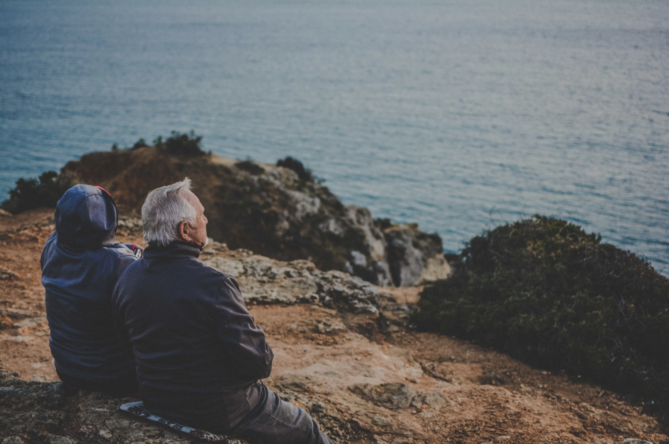 Guest post by Carol Roth
I wear a lot of hats in the financial world, from "recovering" investment banker to economic commentator, but the one where I find the people least prepared- financially or otherwise- relates to my role as founder of the Future File legacy and wishes planning system.
Developed by my sister and I based on an emergency folder prototype my father made for us and that we used when he was in an accident and ultimately passed away unexpectedly, Future File helps individuals and families organize their wishes and information and leave a roadmap for their loved ones to follow in a variety of circumstances.
Given our extensive research in creating the product and what we have heard from customers after having used Future File, here are the three life situations where people aren't prepared enough.
Emergencies
Life happens, and sometimes in a way you don't expect it. Whether it be a house fire or flood or an accident that leaves someone partially or fully incapacitated, people aren't well-prepared for these issues. While it is common perhaps to buy fire or flood insurance, what about other insurance if you are out of work for prolonged periods of time? If you are in an emergency, do you have all of your information stored in a place where a loved one can easily access it?
When our father was in a freak accident, our Future File prototype had critical information, including his medical insurance, what medications he was taking, a key to his home to get a change of clothes and his wishes related to medical care- these are items that not everyone has organized for themselves and their family members.
When a friend's son had a medical emergency at college, they were left in the dark because they didn't have a signed power of attorney that legally allowed them to make decisions because their son was technically an adult. They didn't know who to contact because his friends were new and unknown to them.
Planning and sharing your wishes and information, using a system like Future File or otherwise, can help make sure you aren't left in the dark and have done the leg work before you encounter the emergency situation. Just like insurance, you need it in advance; when an emergency happens, it is often too late.
Aging
A larger percentage of the population is aging, and this will create care burdens for their family members. This burden expands exponentially if your family member has memory and other cognitive related issues or physical issues to deal with.
Going through a legacy and wishes planning exercise can help the family decide on who is providing care (and how that will be paid for), not just related to health, but related to all aspects of the aging family member's life.
This means perhaps getting not just healthcare and but durable powers of attorney to oversee affairs planning. Who is responsible for bill payment and monitoring investments? Who is dealing with doctor's appointments and day-to-day care?
Going through the legacy and wishes planning process will help all the relevant family members know what they are responsible for and make sure that no important items fall through the cracks.
Death
Whether someone's passing is expected due to illness or age, or completely unexpected (and we have experienced both), people are never prepared to deal with everything that surrounds this lifecycle event.
Going through wishes and information related to the litany of work that happens right after someone passes, from laying the person to rest to wrapping up their personal affairs can be a living nightmare. In addition to your personal grief, you have the burdens of potentially unknown wishes, up to five figures in expenses and hundreds of hours of time in dealing with all of the paperwork involved.
Having a system like Future File that can walk you through this can save you hundreds of hours of time, thousands of dollars, and some, but not all, of your grief. Even if you don't use a formal system, making every effort to be clear in communicating your wishes and providing access to key information will help your loved ones. It will also figure out if you need financial products like life insurance to cover end-of-life costs or to provide for family members.
Life is unpredictable, and when things are unpredictable, we do our best to plan for what we know today. This will help make those difficult moments, whether short or long in their duration, easier and less costly to bear.
Carol Roth is a "recovering" investment banker, 2x New York Times bestselling author, entrepreneur, creator of the Future File legacy planning system, television personality and business advisor.
NEXT: The Tax Secrets of the Wealthy (And How You Can Use Them)
Disclosure: The information provided by The Financial Genie is for informational purposes only. It should not be considered legal or financial advice. You should consult with an attorney or other professional to determine what may be best for your individual needs. The Financial Genie does not make any guarantee or other promise as to any results that may be obtained from using our content. No one should make any investment decision without first consulting his or her own financial advisor and conducting his or her own research and due diligence. Additionally, some of the organizations with products on our site may pay us a referral fee or affiliate commission when you click to apply for those products.