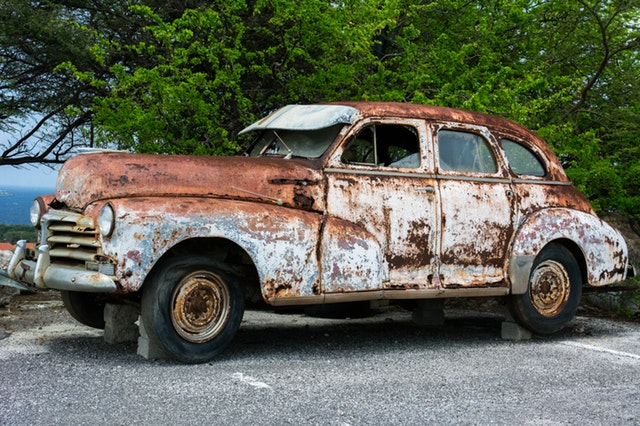 When you're used car shopping, you might consider buying one with a rebuilt title to save money. But do you know what the vehicle was salvaged for? While not every salvage title is a lemon, you need to do your homework and make sure you don't overpay.
What is a Rebuilt Title?
Virtually every vehicle you see on the road has a "clean title." When you buy a brand new car from the dealership, it has a clean title. This means the vehicle hasn't been involved in a serious wreck or severe weather like hail or flooding.
When a vehicle has been damaged and the repair costs are 50% to 90% of the vehicle value, the insurance company will "salvage" the vehicle. Depending on the insurance company and state regulations, the car title will change from "clean" to one of the following:
Rebuilt Title
Salvage-As IS
Salvage-Parts Only
Rebuilt titles are the most common title for heavily-damaged vehicles because it means the car has been repaired and passed any safety inspections to be roadworthy once again.
You might also come across "Salvage-As Is" titles can still be driven, but every state has different policies so you might not be able to get a license plate very easily. Check with your county clerk or DMV before you purchase a salvage title vehicle to see if any additional steps are required to register your new purchase.
Finally, cars with a "Parts Only" title, the vehicle can no longer be driven but only used for parts. If you're trying to rebuild another vehicle or want a new side hustle, you might consider this option. For the average driver, move onto the next vehicle listing.
Why Do Cars Have Rebuilt Titles?
Cars with rebuilt titles can still have a long vehicle life ahead of them. But, you have to know why the vehicle no longer has a clean title.
Here are some of the reasons why a vehicle gets a rebuilt title:
Involved in major accident
Major repairs for certain parts(i.e. body frame, roof assembly, cowl assembly, etc.)
Flood damage
Hail damage
Theft damage
Vandalism
Rodents
Basically, if the insurance claim is almost as much as the vehicle's market value, it's likely to have a rebuilt or salvage title.
How to Find Out Why a Vehicle is Salvaged
You might have to put your detective cap on to find out why a vehicle is salvaged.
The first person you should ask is the vehicle seller. If they don't know the vehicle history, your job gets a little harder. Many rebuilt vehicles are sold by dealers and not the original owner. This is because they are picked up from vehicle auctions so the insurance company can recoup the repair costs.
If you're buying from a used car dealership (and not an independent seller), ask to see the CarFax vehicle history report. A single report costs you $40, but dealerships pay a flat rate to CarFax and essentially get the reports for free. This report will show the previous ownership history, any dealership maintenance, and why the vehicle was salvaged. For example, you can even see if the car used to be a rental vehicle.
If you can't get a CarFax report, you can also check the vehicle history report for free at VehicleHistory.com. All you need is the VIN number and you can access the basic records. You should look and see why a vehicle has been salvaged.
If you can't verify why the vehicle has a salvage or rebuilt title, don't buy the vehicle. It's too risky for most people.
Bring a Mechanic for the Test Drive
It's a good idea to always have a mechanic or another person that's good with cars to come with you on a test drive. This suggestion holds even more validity when you have a rebuilt title.
Ideally, you should only buy salvage vehicle if it's been involved in an accident. This is because the mechanic can verify which repairs have been made and can spot any red flags.
It's a lot harder when the vehicle has been salvaged by an act of nature like flood damage. From a test drive, you might not know if there are major electrical issues or excessive mold. The same can be said for flood-damaged homes from major hurricanes too.
How Much to Pay for a Rebuilt Vehicle?
Selling prices are more negotiable with rebuilt vehicles than clean titles. With a clean title, you can essentially predict you will pay the KBB or NADA used car value.
To get a ballpark estimate, find the estimated trade-in value and private party value (or clean retail value) from these three rating agencies:
After getting the two values from each site, add the private party and trade-in value separately for each site. Then, divide that number by two and multiply it by 0.8 (80%) to get the estimated rebuilt title price.
If the private party value is $6800 and the trade-in value is $3800, you divide the sum of 10600 by two and multiply by .80. The estimated salvage title price is $4,240. You can then find the average of the three estimates to get your salvage vehicle price.
Depending on what repairs have been completed or still need to be finished, the price may be higher or lower than your calculations. But, you should never pay regular Blue Books prices.
Can Rebuilt Vehicles Be Insured?
You should still verify with your insurance agent, but rebuilt titles are usually insurable. Because they aren't a clean title you might not receive as high of a payout as usual. For this reason, you might consider only carrying liability insurance for the car, especially if you only paid a few thousand for it.
When to Buy a Rebuilt Vehicle
Many rebuilt vehicles are safe to drive and are only salvaged because repair costs can be expensive. Once the repairs are made, the vehicle can operate "like new" but you saved thousands of dollars in the process.
In general, only buy a rebuilt vehicle if it required simple repairs that a mechanic can easily inspect for repair quality. This doesn't mean you might not have some issues still, but buying any used car can be a gamble.
When to Avoid Rebuilt Titles
Although you might be comfortable with the additional risk, you should almost always avoid rebuilt titles if the car was salvaged for flood damage. Excessive water can be any car's worst enemy because water can cause electrical issues, mold, and premature rust. All of these problems are expensive to repair and can also cause other parts to wear out and be replaced sooner than anticipated.
Disclosure: The information provided by The Financial Genie is for informational purposes only. It should not be considered legal or financial advice. You should consult with an attorney or other professional to determine what may be best for your individual needs. The Financial Genie does not make any guarantee or other promise as to any results that may be obtained from using our content. No one should make any investment decision without first consulting his or her own financial advisor and conducting his or her own research and due diligence. Additionally, some of the organizations with products on our site may pay us a referral fee or affiliate commission when you click to apply for those products.