Budgeting
Price Wars Rule the Grocery Aisles of Wal-Mart and Aldi
At the start of 2017, Wal-Mart decided to boost their grocery sales by directly targeting the low prices of German-based grocery chain Aldi. Wal-Mart is hoping to increase their grocery sales and increase their brand exposure by reducing their grocery prices dramatically; this is currently being tested in several states in the US. So, if you are living in one of the test states, you could save a considerable amount of money by shopping at Wal-Mart instead.
Wal-Mart decided to run their price tests in 11 Midwest and Southeastern States; this includes Iowa, Illinois and Florida. Their focus is reducing grocery prices, even though grocery sales are 56% of Wal-Marts revenue. With the price reduction, Wal-Mart hopes to attract more customers and build a loyal customer base.
There have been some spot checks in several of the states Wal-Mart is testing. Spot checkers found that the lower prices are already taking hold, and could be quite advantageous for the grocery bill of the average American. Some of the products that appeared cheaper in Wal-Mart included boneless chicken, toothpaste, paper towels, toilet paper, ground beef, tomatoes and even coca cola. So, going to Wal-Mart for an all-round grocery shop might not be a bad idea for the Midwest and Southeastern states.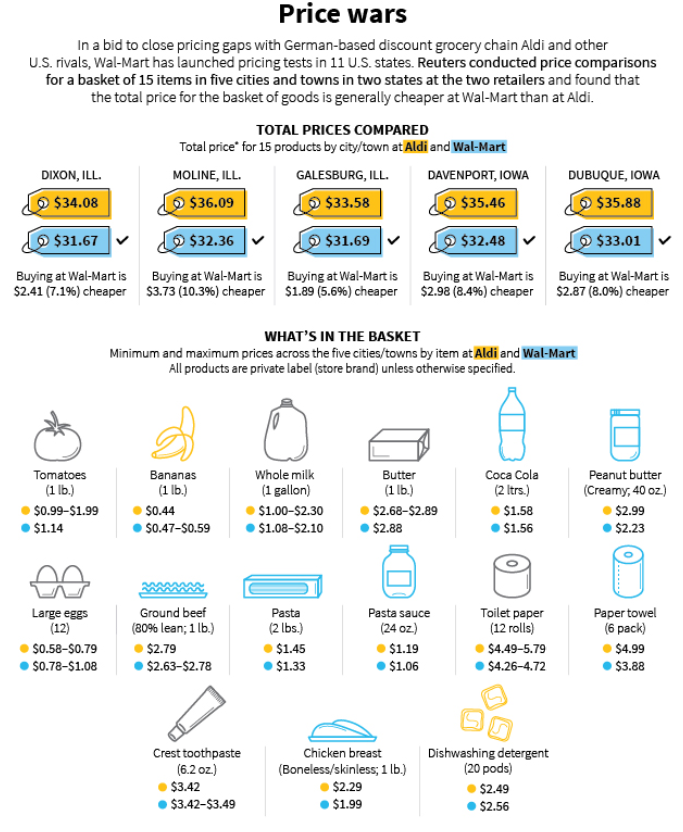 The exact strategy used by Wal-Mart is not known, although Wal-Mart has stated that its suppliers are willing to help the company beat rivals where pricing is concerned. This could mean that Wal-Mart could become a serious competitor for Aldi. However, changing their pricing does not mean that Wal-Mart is set to win the price war though, because in addition to Aldi, another German discount grocer is set to hit the US this year – Lidl.  Aldi and Lidl are grocery brands present across the globe, and often known as the place to get the best deals on groceries. So, Wal-Mart has their work cut out for them with the coming price war. German discount stores have been a thorn in the side of many local grocery retailers, and with affiliates all over the world, Lidl and Aldi are not expected to take the price war laying down.
Still, adjusting their prices is not the only aspect of their service Wal-Mart wishes to improve. Wal-Mart also wants to make several logistics improvements, which could help their vendors reach a whopping $1 billion in sales.
Aldi's prices have been 20% lower than Wal-Marts prices for the past couple of years, but Wal-Mart is looking to tackle that problem head on. The store is looking to return to its status of ten years ago, more specifically when they were the leader in low prices. In conclusion, Wal-Mart is looking to give up its own profits to invest in its own brand. How this is going to affect customers and vendors remains to be seen, since the exact strategy of Wal-Mart is not clear yet. Of course, the ones that will benefit from this price war are undoubtedly American customers. So, if you wish to benefit from the current price war and save some money on your grocery bill, be sure to check if the price war is going on in your area and head to Wal-Mart for your next grocery shop.